Suupaa Kaizoku Cosplay: Cosplay Jam Episode 16 – ACen Fandom Not Extinguished
Anime Central is long done, but it lives on in our hearts. And also our taste buds thanks to Giordano's Pizza. We'll talk about our first experience judging cosplay, trying to survive the cold of Chicago, and the horrible experience you've probably already heard about ACen Masquerade this year. Don't forget to check out our Facebook page with the ACen 2012 gallery. Episode 16 is a go!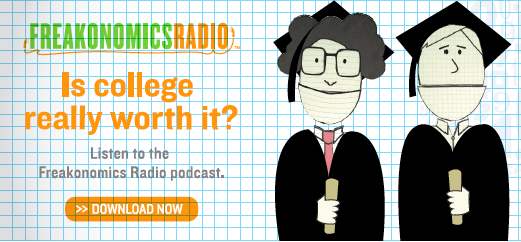 Freakonomics Radio Podcast: Freakonomics Goes to College, Part 1
Our latest Freakonomics Radio podcast is called "Freakonomics Goes to College, Part 1." The gist: what is the true value these days of a college education? As you can tell from the title, this is the first episode of a two-parter. There is so much to say about college that we could have done ten episodes on the topic, but we held ourselves back to two. The key guests in this first episode are, in order of appearance:
+ Allen Ezell, a former FBI agent who co-authored the book Degree Mills: The Billion-dollar Industry That Has Sold over a Million Fake Diplomas.
+ Karl Rove, the former senior adviser and deputy chief of staff for President George W. Bush. Rove, it turns out, is not a college graduate. He is, however, a published author — of Courage and Consequence: My Life as a Conservative in the Fight.
+ David Card, an economist at Berkeley who has done a lot of research and writing on the value of education.
+ And our own Steve Levitt.
/Filmcast Ep. 195 – The Watch
This week, Dave, Devindra, and Adam reflect on the difficulty of making South Park, praise the Year of Matthew McConaughey, get skeptical about Cloud Atlas, and review Costco: The Movie.
Totally Rad Show: Documentary Review - Indie Game: The Movie
Dan, Alex, and Jeff take a look at the new documentary, Indie Game: The Movie, which shines a light on the people behind some of their favorite downloadable games: Braid, Super Meat Boy, and Fez. Is the film a must watch for gamers, or does it perpetuate negative stereotypes?