Operation Kino 73: The Manic Pixie Ruby Sparks And Nitpicking The Dark Knight Rises
This week on Operation Kino we're in full Manic Pixie Dream Girl mode as we review the new rom-com Ruby Sparks. From there we talk about some of the reactions to The Dark Knight Rises that have gone into full-on nitpick mode, and wonder if picking apart a film's plot is really just a way to criticize something you expected to love. Before any of that, though, there's a lightning round inspired by Step Up: Revolution and then tidbits, in which David waxes poetic about the new art/film installation The Clock, Katey is against the idea of reshooting Gangster Squad, Patches catches up with the classic The Life and Death of Colonel Blimp, and Da7e calls his fandom into question when he gets into a tussle with Marvel. We end, as always, with your lightning round answers for dessert.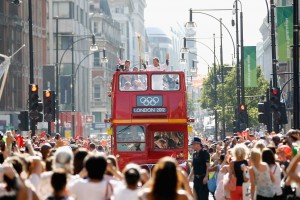 Freakonomics Radio - Olympian Economics
With the 2012 Summer Olympic Games getting underway this week in London, we ask a simple question: do host cities really get the benefits their boosters promise, or are they just engaging in some fiscal gymnastics?
Nerdist Podcast #195: Penn Jillette
We love Penn Jillette so much, we invited him back to the show already! This time, Penn tells some stories about Dean Martin and motorcycle gangs, and he tells the trick to getting good at card tricks!